This may be the happiest episode ever! Not so much because of the content, (Serena is brought up and I still have a few issues there,) but because of all the smiling Sunflora! There's a contest in the town the kids are passing through, and while the whole things sounds like boring filler, there's a couple little things that make it unique and send me on some tangents.
Tune in and listen!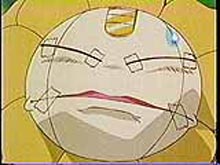 A face only a mother could love...
And don't forget to visit
PIRN and check out their petition for more Pokemon music!
It's worth looking into, and you should sign it if you want more of the tracks we love made available or new soundtracks created.