Nature is out of balance... again. This particular occasion doesn't require the heroic services of our Chosen One but that doesn't mean a little help isn't welcome. Also, Bulbasaur meets a new friend... if you want to call it that...
Why merely hug a tree when you can over-achieve?
And don't forget to drop by PIRN Radio to listen to music and interviews, now playing festive tracks for the holidays!
You can also vote for your favorites, so follow the link!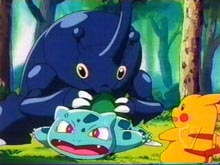 Some days I wonder if he regrets ever leaving the Hidden Village...