This episode was recorded in a hotel room in New York City, where my set-up was different, the mike was a back-up, and the background noise was a nightmare to edit out. As a result, the sound quality leaves a little to be desired, I sound like I'm talking from the future where we get taken over by robots.
But it's still one of the funniest episodes I've seen in a while, Pokemon is extra zany today, and I hope you enjoy it!
Click here to listen!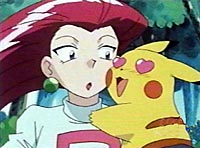 Never thought you'd see this day, did you?
Like cards? Check out Pokepress' coverage of the Phantom Forces Pre-release!