It's movie tiiiime!
The summer blockbusters are upon us, this weekend will have the release of Pokemon's summer movie, along with Studio Ghibli's summer movie... same day, people, sit back and grab that popcorn...
I talk for a very long time on this subject and somehow managed to work Dreamworks and How To Train Your Dragon 2 into this (and really, why not?) so the opening tangent is probably longer than the rest of the episode. Skip ahead twenty minutes if it starts to bore you.
In our actual episode, Totodile is the new Brock. Ash and Misty are not amused.
Tune in to hear if this pokemon will find true love?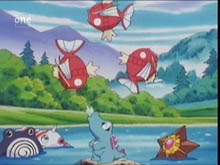 We also received an interview courtesy of Pokemon Crossroads, this one is from Animerica, July 1999 issue.
The interview is with Takemoto Mori
(scroll down the page for it) but it also has other interesting articles and interviews on the subject of Pokemon. A great find!
Don't forget to check out PIRN for all your pokemon music needs!
And for more on Pokemon Symphonic Evolutions, you can listen to an interview Pokepress conducted,
here!